AN ARRAY OF SERVICES
Industrial & Commercial Shipping Services in the Bay Area
Your assets are important to your organization. They're important to us, too. Every shipping project we work on is our top priority, no matter the size or weight. Our teams give your items their undivided attention from pickup to delivery, and our services can meet any of your shipping goals and needs.
Craters & Freighters located in the Bay Area is known worldwide for our industrial shipping services, we are a comprehensive industrial freighting company with decades of experience and commercial shipping projects behind us. Our packaging materials are of the highest quality, our industrial services are vast, and our team goes above and beyond for every customer.
We'll Handle This
When you work with Craters & Freighters, we handle every detail for you. Our clients find that being able to trust and rely on us means they can turn their attention to other tasks and be more productive.
From packaging and crating to coordinating logistics, we have extensive expertise in every aspect of industrial shipping. We even provide cargo insurance for added peace of mind.
So, let's talk about your next commercial shipping project so you can hand it off to us with confidence.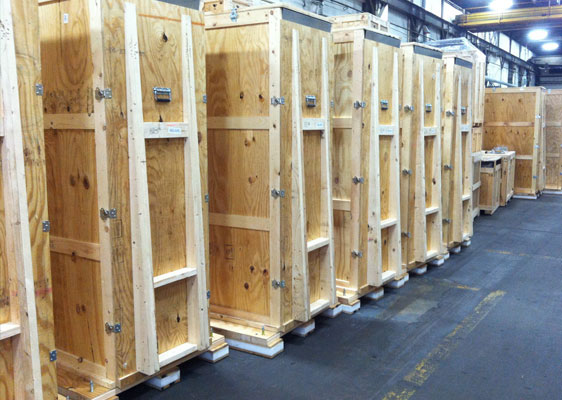 Across the Country or Around the World
Because of the personalized service that we offer, Craters & Freighters has an extensive network of offices and industry contacts. Our global reach ensures that wherever you are shipping from and to, we can streamline the process and ensure it goes smoothly. Contact us at 408-392-9722 to learn more about our industrial shipping in the Bay Area including:
If your shipment requires premium industrial packaging products, the Bay Area Craters & Freighters commercial shipping and packing services are unparalleled in the industry. Our global shipments surpass all requirements for easy entry into their final destination. We understand the importance of your peace of mind when sending your commercial goods across state or across the sea and our custom crating is up for that task.
Our custom crating engineers will ensure the safety of your industrial shipment through expertly packed items using crates, boxes, and pallets, as well as inner supports that keep your equipment safe and secure throughout their journey.
Craters & Freighters is proud to offer these services:
National and international shipping by land, air or sea
Experience and knowledge with entry into international countries, meeting regulations and requirements
Pick-up and delivery to both business & residential addresses.
Experts in packing, crating, and transporting for the utmost in safety and efficiency
On-site custom crate building for items that cannot be transported to our San Jose shipping facility
And so much more!
Why Choose Craters & Freighters for Your Industrial Shipping Needs
We are a full-service, comprehensive crating and industrial shipping company. We take great pride in our reputation and are recognized around the world for our attention to detail, effective and efficient services, excellent customer service, and overall industry knowledge and expertise.
Our industrial packaging experts are professional and reliable. We work with the best-of-the-best in our field and have client reviews & testimonials to back it up. Our prices are fair and reasonable and our white-glove services are as good as it gets. Offering complete confidence in your shipment from start to finish is our main goal.
At Craters & Freighters, we strive to do our part when it comes to sustainability and eco-responsibility. We work to protect the environment by planting trees, use biodegradable materials whenever possible, and we create fully tailored reusable custom crates.
Our team members follow important core values:
Integrity
Dedication
Commitment
Accountability
Teamwork
Learning
Respect
We all recognize the importance of responsibility and will do our part to make your industrial shipping project go as smoothly as possible.
If you are searching for unrivaled commercial shipping and packaging services in the Bay Area, we invite you to review our website and shipping resources, call us to get some questions answered, and get a free quote from us.
We've made it our business to get your industrial shipment where it needs to be.
Get a fast, free, no-obligation cost estimate from Craters & Freighters Bay Area.
Provide some information on your needs and we'll get back to you right away with a figure you can use in your planning.